How to Use Discount Code
Hello there, thank you for visiting cosparts.com to shop your beloved things. Here, I'll teach you how to use a discount code to save your money. I'm just a little bit confused that my customers often do not use a discount when we really offer one. I guess they do not know how to. Today, I'll show you!
Hey, before begining, I want to tell you that we offer a dicount 15% off for new newletter subscribers. See the screenshot below:
When you entered  your valid email, then you will get the dicount code ***for 15% off. And you should apply the discount code on the checkout page to make it work.
All right, let's go to the topic. Here is a banner below which including dicount codes:
Now I'll use discount code SM5 (set up for 5% off for orders over $39) to show you as a example. I added 3 pieces of stranger things hellfire club shirts in my cart, then I went to the checkout page: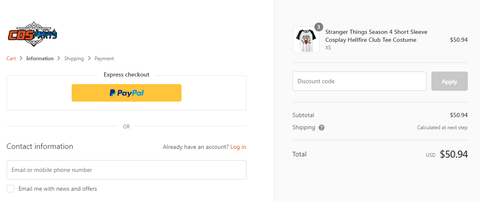 See, the subtotal is $50.94, then I eneter the dicount code SM5, and clicked the Apply button: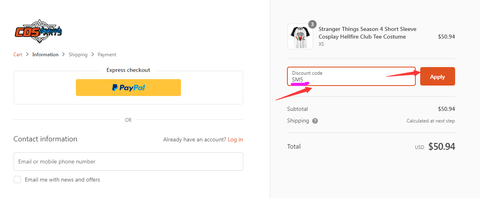 So we came here: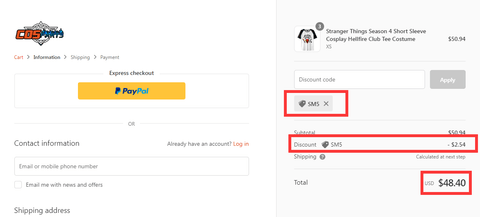 See, right, the SM5 dicount code works and it saved your money $2.54. It's so simple right? Got it? Please feel free to contact us if you have any questions via support@cosparts.com or click the button the frontpage Chat With Us. We will response in time. 
And you can click https://www.wethrift.com/cosparts to check more coupon code for discount.
Again, thank you for shopping with us. We hope you have fun and save your money if possible.
COSPARTS TEAM.