How to Use Discount Code
Hello there, thank you for visiting cosparts.com to shop your beloved thing. Here, I'll teach you how to use a discount code to save your money. I just confused that my customers often do not use discount when we really offer one. I guess they do not know how to. Today, I'll show you!
Hey, before begining, I want to tell you that we offer a dicount 15% off for new newletter subscribers. See the screen shot shows:
When you entered  your valid email, then you will get the dicount code ***for 15% off. And you should apply the discount code on the checkout page to make it work.
All right, let's go to the topic. Here is a banner below which including dicount codes:
Now I'll use discount code SM5 (set up for 5% off for orders over $39) to show you as a example. I added 3 pieces of stranger things hellfire club shirts in my cart, then I went to the checkout page: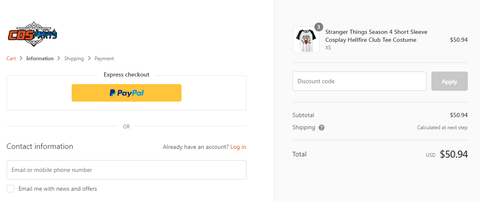 See, the subtotal is $50.94, then I eneter the dicount code SM5, and clicked the Apply button: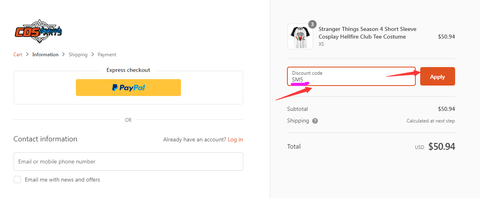 So we came here: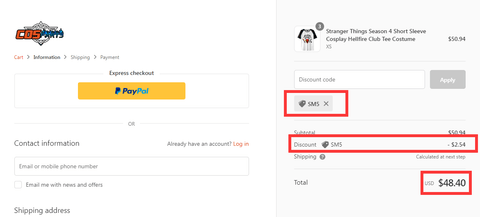 See, right, the SM5 dicount code works and it save your money $2.54. It's so simple right? Got it? Please feel free to contact us if you have any questions via support@cosparts.com or click the button the frontpage Chat With Us. We will response in time. 
Again, thank you for shopping with us. We hope you have fun and save your money if possible.
COSPARTS TEAM.